Do not sell my personal information
Your rights under the California Consumer Privacy Act
The California Consumer Privacy Act (CCPA) provides you with rights regarding how your data or personal information is treated. Under the legislation, California residents can choose to opt out of the "sale" of their personal information to third parties. Based on the CCPA definition, "sale" refers to data collection for the purpose of creating advertising and other communications. Learn more about CCPA and your privacy rights.
How to opt out
By clicking on the link below, we will no longer collect or sell your personal information. This applies to both third-parties and the data we collect to help personalize your experience on our website or through other communications. For more information, view our privacy policy.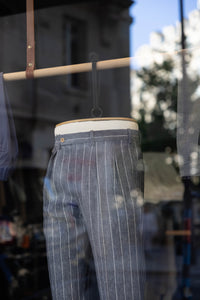 Both modern and timeless, the Zins pants compose a wardrobe of essentials with a subtly affirmed character.
Zins pants are living pants, capable of moving and adapting to everyday adventures. They follow every movement, and accompany their wearer on every occasion. Natural, obvious, with an imperceptible feel, they become an extension of oneself. As beautiful frontwards as backwards, they are the result of an expertise acquired over decades, and a unique perspective on the piece bringing together all of the House's know-how. Careful attention is paid to each seam, and the manufacturing process takes on average twice as long as for most brands, to ensure the garment's perfection.
The assembly of the waistband is a tailored finish. This avoids stiffness and prevents the roll.
They are eyelet shaped with bar-tacks ensuring suppleness and durability.
They are fixed and reinforced due to the button shank being wound by a thermo welded thread.
The strategic positioning of the lining at the knee avoids the "bagging" or stretching the fabric at the knee.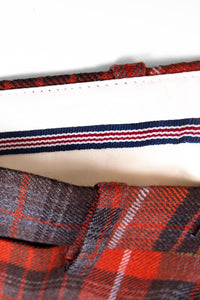 They are stitched with an "invisible stitch" and pressed before assembly in order to be impeccably net.
The stitches are as short as possible: 6 stitches per centimetre, to ensure strength in movement, resistance and a clean appearance.
In the workshop, the check fabrics, stripes and corduroys are aligned and matched at the side seams and at the waist.
The pocket bag is "stitched inside and then turned". In this way its neatness and endurance is increased. The pocket bag is not sewn inside the lining, this allows greater comfort.
Use of 2 ply yarns avoids tearing when trouser is put on
The original shape of the under fly is made with a button hole in the extension of the waistband seam as done in the olden days, this allows for a balance fit
Innovation, choice of fabrics, precise cuts and quality of manufacture are the four pillars of these must-haves.
In its quest for impeccable pants, the House continues to innovate season after season. Its successive achievements have enabled it to develop unique manufacturing methods, based on 10 golden rules established by its founder. A vision perpetuated today, while reflecting on tomorrow's context, so that Zins pants will always remain those in which one feels best.