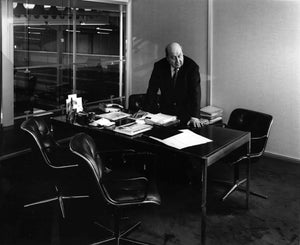 Monsieur Bernard Zins
The history of Maison Zins began in the 1950s, when its founder, Bernard Zins, returned from a trip to the United States. Having left under the Marshall Plan, the engineer from Arts & Métiers, a graduate of the École Supérieure du Vêtement in Paris, discovered innovative design techniques there. Ten years of hard work and a patent later, he succeeded in what no Frenchman had managed to accomplish before: industrializing tailoring quality.
Since 1967,
Maison Zins continues to sharpen its know-how and its unique vision of design with the same passion.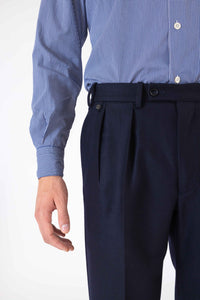 Behind this prowess
Hiding is the desire to restore its nobility to a garment that is too often neglected.
Like a designer, combining a sharp eye with a technical point of view, he wants to offer the best possible version, and make it available to a large number of people.
His mastery then won over the most prestigious names in Parisian luxury, such as Pierre Cardin, Saint Laurent, Lanvin, Céline, Hermès, Chanel and Arnys.
Of exceptional quality, our pants are designed to accompany every moment of life with elegance and naturalness.
From the 1980s, the House emerged from the shadows with its eponymous label.
Establishing comfort as a rule of thumb, it is dedicated to creating elegant and functional pants, adapted to each situation.
The know-how of the house is illustrated by two signatures:
The chino-chic
The chino finds its origin in the American army.
Elevated to the rank of real pants, our chino-chic is a resistant cotton gabardine, with a refined cut and great versatility.
The second signature of the House: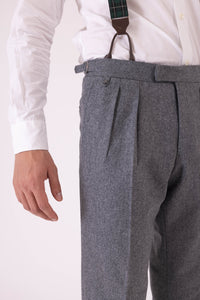 The two French folds
The two French pleats are darts cut inwards.
Rare because of a great technical difficulty, they ensure an incomparable fall and a great comfort, all in elegance.
Today,
The House is also appreciated for its travel range, where its sense of innovation is used to design techwear pieces with unsuspected performance. A technicality always at the service of a well-being, for an elegance and an ease which remain invariable.
Concerned about ethics and respect for the environment,
the Maison, which has remained a family, chooses its partners with care, in France and its neighboring countries. A commitment to responsible fashion that it pursues internally, giving priority in its processes and sourcing to: eco-design, the French sector and sustainable quality.
Combining heritage and modernity, the House far prefers style to trends.
Endowed with an extra soul, his pants reflect a refined but discreet art of living, like a secret that is transmitted between insiders.
Each piece praises elegance and comfort. Noble materials, subtle fantasies and precise cuts then become the characteristic elements of a wardrobe made up of essentials, designed to emphasize the natural look of the wearer.