With its 55 years of history, the company has made innovation one of its fundamental principles.
The first name to industrialize tailoring quality in France, it is also a pioneer in the creation of chinos.

So how did these pants become one of its signature pieces?
Embark with us on a journey through our history...
THE 1970'S : THE ORIGINS OF THE FRENCH CHINOS
At a time when the offer is mainly divided between formal pants and blue jeans, Bernard Zins sees the need for a model that bridges the gap between elegance and casualness.
Inspired by American campuses and their characteristic style, he brought the spirit of the Ivy League back to his factory in Merville, a small town in northern France, where he took the best techniques from each universe.
Thus was born the Bruce: a 100% double-twisted cotton pant, declined in a subtle palette of beiges, with a typical French double pleat and stitching for the sporty side. 
 A pant that will appeal to addresses like Burberry's, Old England and Beams, for whom an exclusive reissue will be launched in 2015.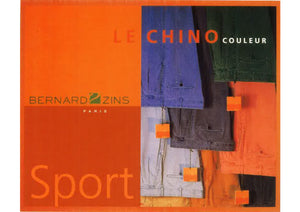 The 80's and 90's marked a turning point for the House, which stepped out of the shadow of the luxury labels to launch its own.
As the line between work and play becomes increasingly blurred, its founder once again manages to capture the zeitgeist: once again, Zins is synonymous with innovation by introducing pants cut from "pigment cotton", a colored fabric that takes on a mottled appearance when washed. 

Pushing his approach to merchandising, the chinos are presented folded in the store, as only jeans were until now. 

It then composes a casual wardrobe with several shades, to always follow the rhythm of your desires.
2000S: AN EVERYDAY PASSION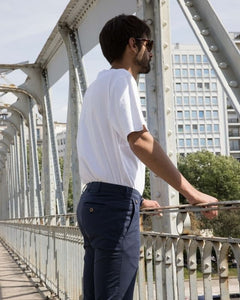 With the third millennium comes the desire for the most comfortable and versatile style possible.
The trouser engineer was a pioneer, using the properties of Lycra to extend them to the chino, which became stretch for maximum comfort. 
The cuts were also adapted to the times, with the BZV3, which modernized the suit trouser, lending itself to every situation. 
Today, the House continues its quest for creativity by focusing on new materials such as organic cotton, or towards new cuts by adapting its archives. 
 Season after season, it continues to restore the iconic chic chino to its former glory. A wardrobe staple, designed to live for each of your adventures.